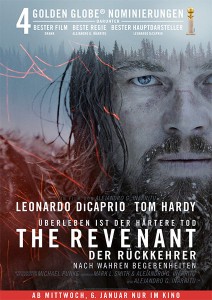 Gestern wur­den im Roy­al Opera House in Lon­don zum 69. Mal die BAFTA Awardss ver­liehen, also die Film­preise der British Acad­e­my of Film and Tele­vi­sion Arts. Mod­eriert wurde die Ver­anstal­tung erneut (und damit zum elften Mal) vom britis­chen Schaus­piel­er und Come­di­an Stephen Fry.
Die meis­ten Nominierun­gen hat­te die Filme BRIDGE OF SPIES und CAROL mit jew­eils neun. Gewon­nen haben aber den­noch andere.
Leonar­do DiCaprio darf sich nicht ganz uner­wartet über eine Ausze­ichung als bester Schaus­piel­er für THE REVENANT freuen, der Streifen nahm auch Stat­uen für den besten Film, die beste Regie, die beste Kam­era und den besten Ton mit nach Hause.
Ganz dicht dahin­ter, näm­lich mit vier BAF­TAs, MAD MAX FURY ROAD. Und das freut mich natür­lich ganz beson­ders, weil es sich dabei um einen Genre-Film han­delt. Die ver­liehenen Preise sind für: Szenen­bild, Kostümde­sign, Make­up & Frisuren sowie den Schnitt.
Nicht uner­wäh­nt bleiben soll die Ausze­ich­nung für INSIDE OUT (ALLES STEHT KOPF) als bester Ani­ma­tions­film.
Was unbe­d­ingt eben­falls erwäh­nt wer­den muss: Der »EE Ris­ing Star Award« ist ein Pub­likum­spreis für New­com­er, der durch tele­fonis­che Abstim­mung vom Pub­likum bes­timmt wurde. Der ging an John Boye­ga, woran STAR WARS ver­mut­lich nicht ganz unschuldig gewe­sen sein dürfte.
Alle Preisträger und Nominierungen
Bester Film
The Revenant – Der Rück­kehrer (The Revenant) – Pro­duk­tion: Steve Golin, Ale­jan­dro González Iñár­ritu, Arnon Milchan, Mary Par­ent, Kei­th Red­mon
Bester britischer Film
Brook­lyn – Eine Liebe zwis­chen zwei Wel­ten (Brook­lyn) – John Crow­ley, Fino­la Dwyer, Aman­da Posey, Nick Horn­by
Beste Regie
Ale­jan­dro G. Iñár­ritu – The Revenant – Der Rück­kehrer (The Revenant)
Bester Hauptdarsteller
Leonar­do DiCaprio – The Revenant – Der Rück­kehrer (The Revenant)
Beste Hauptdarstellerin
Brie Lar­son – Raum (Room)
Bester Nebendarsteller
[
Bearbeiten
]
Mark Rylance – Bridge of Spies – Der Unter­händler (Bridge of Spies)
Beste Nebendarstellerin
Bestes adaptiertes Drehbuch
Adam McK­ay, Charles Ran­dolph – The Big Short
Bestes Originaldrehbuch
Tom McCarthy, Josh Singer – Spot­light
Beste Kamera
Emmanuel Lubez­ki – The Revenant – Der Rück­kehrer (The Revenant)
Bestes Szenenbild
Col­in Gib­son, Lisa Thomp­son – Mad Max: Fury Road
Bestes Kostümdesign
Jen­ny Bea­van – Mad Max: Fury Road
Bestes Make-up und beste Frisuren
Les­ley Van­der­walt, Dami­an Mar­tin – Mad Max: Fury Road
Beste Filmmusik
Ennio Mor­ri­cone – The Hate­ful Eight
Bester Schnitt
Mar­garet Six­el – Mad Max: Fury Road
Bester Ton
Lon Ben­der, Chris Dues­ter­diek, Mar­tin Her­nan­dez, Frank A. Mon­taño, Jon Tay­lor, Randy Thom – The Revenant – Der Rück­kehrer (The Revenant)
Beste visuelle Effekte
Chris Cor­bould, Roger Guyett, Paul Kavanagh, Neal Scan­lan – Star Wars: Das Erwachen der Macht (Star Wars: The Force Awak­ens)
Bester Animationsfilm
Alles ste­ht Kopf (Inside Out) – Regie: Pete Doc­ter
Shaun das Schaf – Der Film

(Shaun the Sheep Movie)

– Regie:

Mark Bur­ton,

Richard Starzak
Min­ions

– Regie:

Pierre Cof­fin,

Kyle Bal­da
Bester britischer animierter Kurzfilm
Edmond – Nina Gantz, Emi­lie Jouf­froy
Bester britischer Kurzfilm
Oper­a­tor – Car­o­line Bartleet, Rebec­ca Mor­gan
Bester Dokumentarfilm
Amy – Asif Kapa­dia, James Gay-Rees
Bester fremdsprachiger Film
Wild Tales – Jed­er dreht mal durch! (Relatos sal­va­jes) – Damián Szifron
Beste Nachwuchsleistung
Naji Abu Nowar (Regie, Drehbuch), Rupert Lloyd (Pro­duk­tion) – Theeb (???)
Bester Nachwuchsdarsteller (EE Rising Star Award)
Der EE Ris­ing Star Award ist ein Pub­likum­spreis, der Preisträger wurde durch eine tele­fonis­che Abstim­mung ermit­telt.
Ehrenpreise
Academy Fellowship
Sid­ney Poiti­er, bahamaisch-US-amerikanis­ch­er Schaus­piel­er und Regis­seur
Die Liste der Nominierten und Gewin­ner stammt aus der Wikipedia. Pro­mo­fo­to THE REVENANT Copy­right 20th Cen­tu­ry Fox of Ger­many
Meist harm­los­er Nerd mit natür­lich­er Affinität zu Pix­eln, Bytes, Buch­staben und Zah­n­rädern. Kon­sum­iert zuviel SF und Fan­ta­sy und schreibt seit 1999 online darüber.