Übli­cher­wei­se spiel­ten die Aben­teu­er von
Maxis
´
SIMS
bis­lang im Heu­te (von nut­zer­ge­ne­rier­ten Inhal­ten mal abge­se­hen, da gab es jede Epo­che von der Stein­zeit bis zur Zukunft). Das wird sich im nächs­ten Jahr ändern.
Elec­tro­nic Arts haben soeben offi­zi­ell den nächs­ten Able­ger des Per­so­nen­si­mu­la­tors ange­kün­digt: THE SIMS MEDIEVAL (deutsch wahr­schein­lich DIE SIMS MITTELALTER). Bereits vor ein paar Wochen kam die Gerüch­te­kü­che in Fahrt, als EA diver­se Domains um die­se Bezeich­nun­gen regis­trier­te. Jetzt wur­de offi­zi­ell bestä­tigt, dass der nächs­te Teil unter die­sem Titel im Früh­jahr 2011 in die Läden kom­men soll.

Die Spie­ler sol­len nicht nur ein eige­nes König­reich auf­bau­en, son­dern sich auch auf Ques­ten bege­ben kön­nen, wie bei­spiels­wei­se die Suche nach Arte­fak­ten, das Arran­ge­ment einer Hoch­zeit unter gekrön­ten Häup­tern oder die Ver­tei­di­gung eines Lan­des gegen Dra­chen oder böse Zau­be­rer. Wie man sieht (und zu erwar­ten war) bleibt das Spiel also nicht his­to­risch kor­rekt, son­dern bie­tet auch phan­tas­ti­sche Inhalte.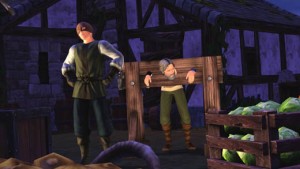 Hier­bei soll der Spie­ler aller­dings nicht auf Mon­ar­chen beschränkt wer­den, auch das Spiel als Bar­de, Schmied, Rit­ter oder Zau­be­rer soll mög­lich sein, Kom­pli­ka­tio­nen erge­ben sich wie immer durch die Cha­rak­ter­ei­gen­schaf­ten des sim­li­schen Ava­tars. Die Expan­si­on des eige­nen Lan­des soll durch Auf­bau oder Feld­zü­ge ermög­licht wer­den. Es scheint dem­nach, dass EAs The Sims Stu­dio (nicht mehr Maxis?) den bekann­ten Sims-Teil durch ein Mis­si­ons­sys­tem, aber auch ein Auf­bau- und ein Stra­te­gie­spiel erweitert.
THE SIMS MEDIEVAL soll für Win­dows und Mac OS erscheinen.
Die voll­stän­di­ge Pres­se­mit­tei­lung after the break.
Pro­mo-Fotos Copy­right 2010 Elec­tro­nic Arts



Get Medi­eval with New Seri­es from EA's Award-Win­ning the Sims Studio

The Sims Medi­eval Pro­vi­des a Fresh Set­ting, Inno­va­ti­ve Game­play, and All-New Fea­tures Unli­ke Anything Ever Seen wit­hin the Franchise

REDWOOD CITY, Calif. –(BUSINESS WIRE)– Go back in time and get medi­eval! The EA Play Label of Elec­tro­nic Arts Inc. (NASDAQ:ERTS) today announ­ced The Sims™ Medi­eval, a new seri­es cur­r­ent­ly in deve­lo­p­ment that pla­ces the popu­lar Sims™ cha­rac­ters from The Sims™ game into the Midd­le Ages and brings play­ers robust, com­pel­ling game­play never seen befo­re in the histo­ry of The Sims. For the first time, play­ers can crea­te heroes, ven­ture on quests, build and con­trol a king­dom, and play every Hero Sim™ cha­rac­ter in the land. Crea­ti­vi­ty will soar as play­ers tell sto­ries like never befo­re full of dra­ma, romance, con­flict, and comedy.

"The Midd­le Ages is a time of intri­gue, legend, and exci­te­ment. It offers a per­fect back­drop for a brand new seri­es from The Sims stu­dio due to the limit­less sto­ries that can be told," said Scott Evans, Gene­ral Mana­ger of The Sims Stu­dio at EA. "The Sims Medi­eval offers a new way for play­ers to expe­ri­ence The Sims which we hope fans will enjoy, and it fea­tures game­play that fans of stra­te­gy and role-play­ing games will find appe­aling such as con­trol­ling an ent­i­re king­dom and quest-based game­play mechanics."

The Sims Medi­eval offers play­ers a chan­ce to build up a medi­eval king­dom, con­trol­ling cha­rac­ters from all walks of life, from Kings and Queens, to Knights and Wizards, Blacks­mit­hs and Bards. It pro­vi­des a host of sto­ry­tel­ling pos­si­bi­li­ties in the form of quests, from craf­ting a legen­da­ry sword to arran­ging a roy­al wed­ding, to pro­tec­ting the king­dom from an evil sorce­rer, to fin­ding the foun­tain of youth. Every quest plays out dif­fer­ent­ly depen­ding on which Hero Sim the play­er is controlling.

The desti­ny of the king­dom rests in the play­ers' hands. Will play­ers build up their king­dom through inter­nal expan­si­on, or perhaps look for a more impe­ri­al type of domi­na­ti­on, expan­ding their rule by con­que­ring ter­ri­to­ries? Will they take on quests in pur­su­it of fame, or focus on the health and well­being of their peop­le? The choice is theirs! With the start of every new game, play­ers will be able to select a new ambi­ti­on for their king­dom, and embark on a new set of stories.

Ever­ything in The Sims Medi­eval is craf­ted to crea­te an immer­si­ve medi­eval world, from the quest-based game­play, to the medi­eval objects such as swords and stocks and thro­nes, right down to the warm look of the cha­rac­ters, and the pain­ter­ly approach to the world its­elf. Play­ers can choo­se to cus­to­mi­ze every new Hero that comes to the king­dom, inclu­ding selec­ting their traits and their fatal flaw. Play­ers get clo­se to their cha­rac­ters, not only sen­ding them on epic quests, but also making sure they car­ry out their dai­ly respon­si­bi­li­ties such as healing the sick, tra­ding for exo­tic goods, or for­ging armor. From having a baby to com­pe­ting in a roy­al tour­na­ment, what hap­pens to their Sims is up to the play­er. The time of romance and chi­val­ry is back with The Sims Medieval.

Deve­lo­ped by The Sims Stu­dio, The Sims Medi­eval for PC/Mac will be avail­ab­le in spring 2011 and has not yet been rated by the ESRB. To down­load art­work, plea­se visit www.info.ea.com. For more infor­ma­ti­on about The Sims Medi­eval plea­se visit www.info.ea.com or the offi­cial web­site at www.TheSimsMedieval.com.

About The Sims

The Sims™, the ground­brea­king fran­chise that allows play­ers to crea­te and live a vir­tu­al, simu­la­ted life on a com­pu­ter, cele­bra­tes its ten year anni­ver­s­a­ry in 2010 with an impres­si­ve more than 125 mil­li­on units sold sin­ce its launch in Febru­a­ry 2000. Now trans­la­ted into 22 dif­fe­rent lan­guages and avail­ab­le in 60 dif­fe­rent coun­tries, The Sims has quick­ly beco­me a uni­ver­sal gaming and cul­tu­ral phe­no­me­non. Sin­ce its June 2009 launch, The Sims 3 has sold more than 5 mil­li­on copies world­wi­de to date and was the #1 best-sel­ling PC tit­le for 2009 in North Ame­ri­ca and Euro­pe. Fan inten­si­ty is evi­den­ced through the 150 mil­li­on down­loads of play­er crea­ted con­tent inclu­ding: Sims, houses, sto­ries and more. The Sims 3 com­mu­ni­ty site, www.thesims3.com, wel­co­mes up to four mil­li­on uni­que visi­tors mon­th­ly, hand­les near­ly 300 con­tent down­loads every minu­te and more than 2.5 mil­li­on uploads have been made to date, inclu­ding 15 movies each hour. The Sims 3 You­Tube Chan­nel is wit­hin the top 10 most view­ed spon­so­red chan­nels of all time with more than 32 mil­li­on video views. Visit The Sims 3 offi­cial web­site to see what the play­ers are crea­ting at www.TheSims3.com or the offi­cial You­Tube Chan­nel for The Sims at http://www.youtube.com/user/TheSims. The Sims 3 is cur­r­ent­ly avail­ab­le for PC, Mac, iPho­ne®, iPod touch® and mobi­le devices and in the fall 2010 on Nin­ten­do DS™, PlayStation®3 com­pu­ter enter­tain­ment sys­tem, Xbox 360® video­ga­me and enter­tain­ment sys­tem and Wii™ and in 2011 the Nin­ten­do 3DS.

About Elec­tro­nic Arts

Elec­tro­nic Arts Inc. (EA), head­quar­te­red in Red­wood City, Cali­for­nia, is a lea­ding glo­bal inter­ac­ti­ve enter­tain­ment soft­ware com­pa­ny. Foun­ded in 1982, the Com­pa­ny deve­lo­ps, publis­hes, and dis­tri­bu­tes inter­ac­ti­ve soft­ware world­wi­de for video game sys­tems, per­so­nal com­pu­ters, wire­less devices and the Inter­net. Elec­tro­nic Arts mar­kets its pro­ducts under four brand names: EA SPORTS™, EA™, EA Mobi­le™ and POGO™. In fis­cal 2010, EA pos­ted GAAP net reve­nue of $3.7 bil­li­on and had 27 tit­les that sold more than one mil­li­on units. EA's home­page and online game site is www.ea.com. More infor­ma­ti­on about EA's pro­ducts and full text of press relea­ses can be found on the Inter­net at http://info.ea.com.

EA, EA SPORTS, EA Mobi­le, POGO, and The Sims are trade­marks of Elec­tro­nic Arts Inc. Mac, iPho­ne, and iPod touch are trade­marks of Apple Inc., regis­tered in the U.S. and other coun­tries. Wii and the Nin­ten­do DS are trade­marks of Nin­ten­do. "Play­Sta­ti­on" is a regis­tered trade­mark of Sony Com­pu­ter Enter­tain­ment Inc. Xbox and Xbox 360 are regis­tered trade­marks of the Micro­soft group of com­pa­nies. All other trade­marks are the pro­per­ty of their respec­ti­ve owners.

Con­ta­cts

EA Play Label
Broo­ke Bau­guess, 310–754-7312 (PR Director)
bbauguess@ea.com
Angie New­man, 650–628-2877 (PR Manager)
anewman@ea.com

Meist harm­lo­ser Nerd mit natür­li­cher Affi­ni­tät zu Pixeln, Bytes, Buch­sta­ben und Zahn­rä­dern. Kon­su­miert zuviel SF und Fan­ta­sy und schreibt seit 1999 online darüber.