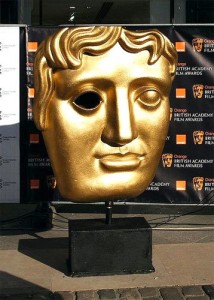 Kurz nach­dem in den USA die gol­de­nen Glo­ben ver­ge­ben wur­den, hat die
Bri­tish Aca­de­my of Film and Tele­vi­si­on Arts
(BAFTA) für die dies­jäh­ri­ge Ver­lei­hung der
Oran­ge Bri­tish Aca­de­my Film Awards
bekannt gege­ben. Dabei wer­den die bes­ten Fil­me und schau­spie­ler des Jah­res 2011 gekürt.
Wenig über­ra­schend fin­det sich auch hier der Stumm­film THE ARTIST gleich mehr­fach, das Gen­re ist wie üblich schwach ver­tre­ten, natür­lich fin­det man Scor­se­ses HUGO (CABRET) und eben­so natür­lich kann man in der Lis­te (unter der Kate­go­rie »Ani­mier­ter Film«) TIM UND STRUPPI, aber auch RANGO ent­de­cken. HARRY POTTER: DEADLY HALLOWS 2 fin­det sich mehr­mals nomi­niert, aller­dings unter eher neben­säch­li­chen Punk­ten wie Pro­duk­ti­ons­de­sign, Sound, Make­up & Haar und selbst­ver­ständ­lich Spezialeffekte.
Es wür­de mich sehr wun­dern, wenn ein ande­rer Film als THE ARTIST als gro­ßer Gewin­ner aus der Ver­lei­hung her­vor­ge­hen wird – aber bei den Bri­ten muss man immer mit Über­ra­schun­gen rechnen.
Die kom­plet­te Lis­te der Nomi­nier­ten im voll­stän­di­gen Artikel.
BEST FILM
THE ARTIST Tho­mas Langmann
THE DESCENDANTS Jim Bur­ke, Alex­an­der Pay­ne, Jim Taylor
DRIVE Marc Platt, Adam Siegel
THE HELP Brun­son Green, Chris Colum­bus, Micha­el Barnathan
TINKER TAILOR SOLDIER SPY Tim Bevan, Eric Fell­ner, Robyn Slovo
OUTSTANDING BRITISH FILM
MY WEEK WITH MARILYN Simon Cur­tis, David Par­fitt, Har­vey Wein­stein, Adri­an Hodges
SENNA Asif Kapa­dia, James Gay-Rees, Tim Bevan, Eric Fell­ner, Manish Pandey
SHAME Ste­ve McQueen, Iain Can­ning, Emi­le Sher­man, Abi Morgan
TINKER TAILOR SOLDIER SPY Tomas Alfred­son, Tim Bevan, Eric Fell­ner, Robyn Slovo,
Brid­get O'Con­nor, Peter Straughan
WE NEED TO TALK ABOUT KEVIN Lyn­ne Ram­say, Luc Roeg, Jen­ni­fer Fox, Robert Salerno,
Rory Ste­wart Kinnear
DIRECTOR
THE ARTIST Michel Hazanavicius
DRIVE Nico­las Win­ding Refn
HUGO Mar­tin Scorsese
TINKER TAILOR SOLDIER SPY Tomas Alfredson
WE NEED TO TALK ABOUT KEVIN Lyn­ne Ramsay
ORIGINAL SCREENPLAY
THE ARTIST Michel Hazanavicius
BRIDESMAIDS Annie Mumo­lo, Kris­ten Wiig
THE GUARD John Micha­el McDonagh
THE IRON LADY Abi Morgan
MIDNIGHT IN PARIS Woo­dy Allen
ADAPTED SCREENPLAY
THE DESCENDANTS Alex­an­der Pay­ne, Nat Faxon, Jim Rash
THE HELP Tate Taylor
THE IDES OF MARCH Geor­ge Cloo­ney, Grant Hes­lov, Beau Willimon
MONEYBALL Ste­ven Zail­li­an, Aaron Sorkin
TINKER TAILOR SOLDIER SPY Brid­get O'Con­nor, Peter Straughan
LEADING ACTOR
BRAD PITT Moneyball
GARY OLDMAN Tin­ker Tailor Sol­dier Spy
GEORGE CLOONEY The Descendants
JEAN DUJARDIN The Artist
MICHAEL FASSBENDER Shame
LEADING ACTRESS
BÉRÉNICE BEJO The Artist
MERYL STREEP The Iron Lady
MICHELLE WILLIAMS My Week with Marilyn
TILDA SWINTON We Need to Talk About Kevin
VIOLA DAVIS The Help
SUPPORTING ACTOR
CHRISTOPHER PLUMMER Beginners
JIM BROADBENT The Iron Lady
JONAH HILL Moneyball
KENNETH BRANAGH My Week with Marilyn
PHILIP SEYMOUR HOFFMAN The Ides of March
SUPPORTING ACTRESS
CAREY MULLIGAN Drive
JESSICA CHASTAIN The Help
JUDI DENCH My Week with Marilyn
MELISSA MCCARTHY Bridesmaids
OCTAVIA SPENCER The Help
OUTSTANDING DEBUT BY A BRITISH WRITER, DIRECTOR OR PRODUCER
ATTACK THE BLOCK Joe Cor­nish (Director/Writer)
BLACK POND Will Shar­pe (Director/Writer), Tom King­s­ley (Direc­tor), Sarah Brock­lehurst (Pro­du­cer)
CORIOLANUS Ralph Fien­nes (Direc­tor)
SUBMARINE Richard Ayoa­de (Director/Writer)
TYRANNOSAUR Pad­dy Con­sidi­ne (Direc­tor), Diar­mid Scrims­haw (Pro­du­cer)
FILM NOT IN THE ENGLISH LANGUAGE
INCENDIES Denis Ville­neuve, Luc Déry, Kim McGraw
PINA Wim Wen­ders, Gian-Pie­ro Ringel
POTICHE Fran­çois Ozon, Eric Alt­may­er, Nico­las Altmayer
A SEPARATION Asghar Farhadi
THE SKIN I LIVE IN Pedro Almo­dó­var, Agus­tin Almodóvar
DOCUMENTARY
GEORGE HARRISON: LIVING IN THE MATERIAL WORLD Mar­tin Scorsese
PROJECT NIM James Mar­sh, Simon Chinn
SENNA Asif Kapadia
ANIMATED FILM
THE ADVENTURES OF TINTIN: THE SECRET OF THE UNICORN Ste­ven Spielberg
ARTHUR CHRISTMAS Sarah Smith
RANGO Gore Verbinski
ORIGINAL MUSIC
THE ARTIST Ludo­vic Bource
THE GIRL WITH THE DRAGON TATTOO Trent Rez­nor, Atti­cus Ross
HUGO Howard Shore
TINKER TAILOR SOLDIER SPY Alber­to Iglesias
WAR HORSE John Williams
CINEMATOGRAPHY
THE ARTIST Guil­laume Schiffman
THE GIRL WITH THE DRAGON TATTOO Jeff Cronenweth
HUGO Robert Richardson
TINKER TAILOR SOLDIER SPY Hoy­te van Hoytema
WAR HORSE Janusz Kaminski
EDITING
THE ARTIST Anne-Sophie Bion, Michel Hazanavicius
DRIVE Mat Newman
HUGO Thel­ma Schoonmaker
SENNA Gre­gers Sall, Chris King
TINKER TAILOR SOLIDER SPY Dino Jonsater
PRODUCTION DESIGN
THE ARTIST Lau­rence Ben­nett, Robert Gould
HARRY POTTER AND THE DEATHLY HALLOWS – PART 2 Stuart Craig, Ste­phe­nie McMillan
HUGO Dan­te Fer­ret­ti, Fran­ce­s­ca Lo Schiavo
TINKER TAILOR SOLDIER SPY Maria Dju­r­ko­vic, Tatia­na MacDonald
WAR HORSE Rick Car­ter, Lee Sandales
COSTUME DESIGN
THE ARTIST Mark Bridges
HUGO San­dy Powell
JANE EYRE Micha­el O'Connor
MY WEEK WITH MARILYN Jill Taylor
TINKER TAILOR SOLDIER SPY Jac­que­line Durran
MAKE UP & HAIR
THE ARTIST Julie Hewett, Cyd­ney Cornell
HARRY POTTER AND THE DEATHLY HALLOWS – PART 2 Aman­da Knight, Lisa Tomblin
HUGO Morag Ross, Jan Archibald
THE IRON LADY Mare­se Langan
MY WEEK WITH MARILYN Jen­ny Shircore
SOUND
THE ARTIST Nadi­ne Muse, Gérard Lamps, Micha­el Krikorian
HARRY POTTER AND THE DEATHLY HALLOWS – PART 2 James Mather, Stuart Wil­son, Stuart Hil­li­ker, Mike Dow­son, Adam Scrivener
HUGO Phil­ip Stock­ton, Euge­ne Gear­ty, Tom Fleisch­man, John Midgley
TINKER TAILOR SOLDIER SPY John Casa­li, Howard Bar­groff, Doug Coo­per, Ste­phen Grif­fiths, Andy Shelley
WAR HORSE Stuart Wil­son, Gary Ryd­strom, Andy Nel­son, Tom John­son, Richard Hymns
SPECIAL VISUAL EFFECTS
THE ADVENTURES OF TINTIN: THE SECRET OF THE UNICORN Joe Letteri
HARRY POTTER AND THE DEATHLY HALLOWS – PART 2 Tim Bur­ke, John Richard­son, Greg But­ler, David Vickery
HUGO Rob Lega­to, Ben Gross­man, Joss Williams
RISE OF THE PLANET OF THE APES Joe Let­te­ri, Dan Lem­mon, R. Chris­to­pher White
WAR HORSE Ben Mor­ris, Neil Corbould
SHORT ANIMATION
ABUELAS Afa­rin Egh­bal, Kasia Mali­pan, Fran­ce­s­ca Gardiner
BOBBY YEAH Robert Morgan
A MORNING STROLL Grant Orchard, Sue Goffe
SHORT FILM
CHALK Mar­ti­na Ama­ti, Gavin Emer­son, James Bol­ton, Ila­ria Bernardini
MWANSA THE GREAT Run­ga­no Nyo­ni, Gabri­el Gauchet
ONLY SOUND REMAINS Arash Ash­tia­ni, Ans­hu Poddar
PITCH BLACK HEIST John Maclean, Ger­ar­di­ne O'Flynn
TWO AND TWO Babak Anva­ri, Kit Fra­ser, Gavin Cullen
THE ORANGE WEDNESDAYS RISING STAR AWARD (voted for by the public)
ADAM DEACON
CHRIS HEMSWORTH
CHRIS O'DOWD
EDDIE REDMAYNE
TOM HIDDLESTON


Foto BAFTA-Award Copy­right Bri­tish Aca­de­my of Film and Tele­vi­si­on Arts, auch Quel­le der Liste

Meist harm­lo­ser Nerd mit natür­li­cher Affi­ni­tät zu Pixeln, Bytes, Buch­sta­ben und Zahn­rä­dern. Kon­su­miert zuviel SF und Fan­ta­sy und schreibt seit 1999 online darüber.