… und des­we­gen gibt es nichtnur eine offi­zi­el­le Pres­se­mel­dung dazu, son­dern auch ein Foto von Peter Jack­son in Bag End. Plus: Jack­son (oder Ghost­wri­ter) berich­tet auf sei­ner neu ein­ge­rich­te­ten Face­book-Sei­te von den Dreh­ar­bei­ten und es gibt ein offi­zi­el­les Pro­duk­ti­ons-Blog!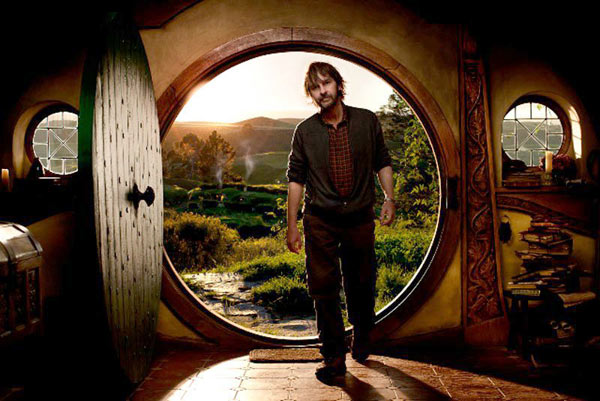 Bild Copy­right War­ner Bros.
Die voll­stän­di­ge Pres­se­mel­dung im kom­plet­ten Artikel.
PRODUCTION BEGINS IN NEW ZEALAND ON THE HOBBIT, PETER JACKSON'S TWO FILM EPIC ADAPTATION OF J.R.R. TOLKIEN'S TIMELESS CLASSIC
In a hole in the ground the­re lived a Hobbit…
Wel­ling­ton, NZ, March 21, 2011—Production has com­men­ced in Wel­ling­ton, New Zea­land, on "The Hob­bit," filmma­ker Peter Jackson's two film adap­t­ati­on of J.R.R. Tolkien's wide­ly read masterpiece.
"The Hob­bit" is set in Midd­le-earth 60 years befo­re Tolkien's "The Lord of the Rings," which Jack­son and his filmma­king team brought to the big screen in the block­bus­ter tri­lo­gy that cul­mi­na­ted with the Oscar-win­ning "The Lord of the Rings: The Return of the King."
The two films, with screen­plays by Fran Walsh, Phil­ip­pa Boy­ens, Guil­ler­mo del Toro and Peter Jack­son, will be shot con­se­cu­tively in digi­tal 3D using the latest came­ra and ste­reo tech­no­lo­gy. Filming will take place at Stone Street Stu­di­os, Wel­ling­ton, and on loca­ti­on around New Zealand.
"The Hob­bit" fol­lows the jour­ney of tit­le cha­rac­ter Bil­bo Bag­gins, who is swept into an epic quest to rec­laim the lost Dwarf King­dom of Ere­bor, which was long ago con­que­red by the dra­gon Smaug. Approa­ched out of the blue by the wizard Gan­dalf the Grey, Bil­bo finds hims­elf joi­ning a com­pa­ny of thir­te­en dwar­ves led by the legen­da­ry war­ri­or, Tho­rin Oakens­heild. Their jour­ney will take them into the Wild; through treache­rous lands swar­ming with Gob­lins and Orcs, dead­ly Wargs and Giant Spi­ders, Shapes­hif­ters and Sorcerers.
Alt­hough their goal lies to the East and the was­te­lands of the Lonely Moun­tain first they must escape the gob­lin tun­nels, whe­re Bil­bo meets the crea­tu­re that will chan­ge his life fore­ver … Gollum.
Here, alo­ne with Gol­lum, on the shores of an under­ground lake, the unassuming Bil­bo Bag­gins not only dis­co­vers depths of gui­le and cou­ra­ge that sur­pri­se even him, he also gains pos­ses­si­on of Gollum's "pre­cious" ring that holds unex­pec­ted and use­ful qua­li­ties … A simp­le, gold ring that is tied to the fate of all Midd­le-earth in ways Bil­bo can­not begin to know.
Mar­tin Free­man takes the tit­le role as Bil­bo Bag­gins and Ian McKel­len returns in the role of Gan­dalf the Grey. The Dwar­ves are play­ed by Richard Armi­ta­ge (Tho­rin Oakens­hield), Ken Stott (Balin), Gra­ham McTa­vish (Dwa­lin), Wil­liam Kir­cher (Bifur) James Nes­bitt (Bof­ur), Ste­phen Hun­ter (Bom­bur), Rob Kazinsky (Fili), Aidan Tur­ner (Kili), Peter Ham­ble­ton (Gloin), John Cal­len (Oin), Jed Bro­phy (Nori), Mark Had­low (Dori) and Adam Brown (Ori). Repri­sing their roles from "The Lord of the Rings" tri­lo­gy are Cate Blan­chett as Galadri­el, Andy Ser­kis as Gol­lum and Eli­jah Wood as Fro­do. Jef­frey Tho­mas and Mike Miz­rahi also join the cast as Dwarf Kings Thror and Thrain, respec­tively. Fur­ther cas­ting announ­ce­ments are expected.
"The Hob­bit" is pro­du­ced by Peter Jack­son and Fran Walsh, along­side Caro­lyn­ne Cun­ning­ham. Exe­cu­ti­ve pro­du­cers are Ken Kamins and Zane Wei­ner, with Phil­ip­pa Boy­ens as co-pro­du­cer. The Oscar-win­ning, cri­ti­cal­ly acc­lai­med "The Lord of the Rings" tri­lo­gy, also from the pro­duc­tion team of Jack­son and Walsh, gros­sed near­ly $3 bil­li­on world­wi­de at the box office. In 2003, "The Return of the King" swept the Aca­de­my Awards, win­ning all of the 11 cate­go­ries in which it was nomi­na­ted, inclu­ding Best Pic­tu­re – the first ever Best Pic­tu­re win for a fan­ta­sy film. The trilogy's pro­duc­tion was also unpre­ce­den­ted at the time.
Among the crea­ti­ve behind-the-sce­nes team retur­ning to Jackson's crew are direc­tor of pho­to­gra­phy Andrew Les­nie, pro­duc­tion desi­gner Dan Hen­nah, con­cep­tu­al desi­gners Alan Lee and John Howe, com­po­ser Howard Shore and make-up and hair desi­gner Peter King. Cos­tu­mes are desi­gned by Ann Mas­krey and Richard Taylor.
Tay­lor is also over­see­ing the design and pro­duc­tion of wea­pon­ry, armour and prost­he­tics which are once again being made by the award win­ning Weta Work­shop. Weta Digi­tal take on the visu­al effects for both films, led by the film's visu­al effects super­vi­sor, Joe Let­te­ri. Post pro­duc­tion will take place at Park Road Post Pro­duc­tion in Wellington.
"The Hob­bit" films are co-pro­du­ced by New Line Cine­ma and MGM, with New Line mana­ging pro­duc­tion. War­ner Bros Pic­tures is hand­ling world­wi­de thea­tri­cal dis­tri­bu­ti­on, with select inter­na­tio­nal ter­ri­to­ries as well as all inter­na­tio­nal tele­vi­si­on licen­sing being hand­led by MGM. The two films are plan­ned for release in late 2012 and 2013, respectively.
ABOUT NEW LINE CINEMA:
New Line Cine­ma con­ti­nues to be one of the most suc­cess­ful inde­pen­dent film com­pa­nies. For more than 40 years, its mis­si­on has been to pro­du­ce inno­va­ti­ve, popu­lar, pro­fi­ta­ble enter­tain­ment in the best crea­ti­ve envi­ron­ment. A pioneer in fran­chise filmma­king, New Line pro­du­ced the Oscar®-winning "The Lord of the Rings" tri­lo­gy, which is a land­mark in the histo­ry of film fran­chi­ses. New Line Cine­ma is a divi­si­on of War­ner Bros.
ABOUT PETER JACKSON/WINGNUT FILMS:
Peter Jack­son is one of the world's most suc­cess­ful filmma­kers. His monu­men­tal achie­ve­ment co-wri­ting, co-pro­du­cing and direc­ting The Lord of the Rings tri­lo­gy (with fel­low Aca­de­my Award win­ners and fre­quent col­la­bo­ra­tors Fran Walsh and Phil­ip­pa Boy­ens) ear­ned a total of 30 Aca­de­my Award nomi­na­ti­ons and 17 Aca­de­my Awards. Jack­son and Walsh recei­ved their first Oscar nomi­na­ti­on for Best Ori­gi­nal Screen­play for their acc­lai­med film Hea­ven­ly Crea­tures. Jack­son, through his New Zea­land-based Wing­nut Films ban­ner, also was respon­si­ble for the glo­bal­ly suc­cess­ful 2005 remake of King Kong which ear­ned over $500 mil­li­on world­wi­de and 3 Aca­de­my Awards. Jack­son most recent­ly direc­ted the Aca­de­my Award nomi­na­ted The Lovely Bones; an adap­t­ati­on of the acc­lai­med best-sel­ling novel by Ali­ce Sebold, which to date has ear­ned near­ly $100 mil­li­on world­wi­de; and pro­du­ced the glo­bal sen­sa­ti­on, District 9, which recei­ved an Aca­de­my Award nomi­na­ti­on for Best Pic­tu­re. He is also deve­lo­ping a tri­lo­gy of films with Ste­ven Spiel­berg based on Tin­tin, the world renow­ned comic book seri­es by Her­ge. In 2010 he recei­ved a Knight­hood for his ser­vices to film.
ABOUT METRO-GOLDWYN-MAYER STUDIOS INC.
Metro-Gold­wyn-May­er Stu­di­os Inc. is actively enga­ged in the world­wi­de pro­duc­tion and dis­tri­bu­ti­on of moti­on pic­tures, tele­vi­si­on pro­gramming, home video, inter­ac­ti­ve media, music, and licen­sed mer­chan­di­se. The com­pa­ny owns the world's lar­gest libra­ry of modern films, com­pri­sing around 4,100 tit­les. Ope­ra­ting units inclu­de Metro-Gold­wyn-May­er Stu­di­os Inc., Metro-Gold­wyn-May­er Pic­tures Inc., United Artists Films Inc., MGM Tele­vi­si­on Enter­tain­ment Inc., MGM Net­works Inc., MGM Dis­tri­bu­ti­on Co., MGM Inter­na­tio­nal Tele­vi­si­on Dis­tri­bu­ti­on Inc., Metro-Gold­wyn-May­er Home Enter­tain­ment LLC, MGM ON STAGE, MGM Music, MGM Con­su­mer Pro­ducts and MGM Inter­ac­ti­ve. In addi­ti­on, MGM has owners­hip inte­rests in domestic and inter­na­tio­nal TV chan­nels reaching over 130 coun­tries. For more infor­ma­ti­on, visit www.mgm.com.
-wbp-
For more infor­ma­ti­on, plea­se contact:
Ste­pha­nie Phil­lips, War­ner Bros. Pictures
(818) 954‑2351
Stephanie.Phillips@warnerbros.com
Kevin Frank, War­ner Bros. Pic­tures International
(818) 954‑7180
Kevin.Frank@warnerbros.com

Meist harm­lo­ser Nerd mit natür­li­cher Affi­ni­tät zu Pixeln, Bytes, Buch­sta­ben und Zahn­rä­dern. Kon­su­miert zuviel SF und Fan­ta­sy und schreibt seit 1999 online darüber.