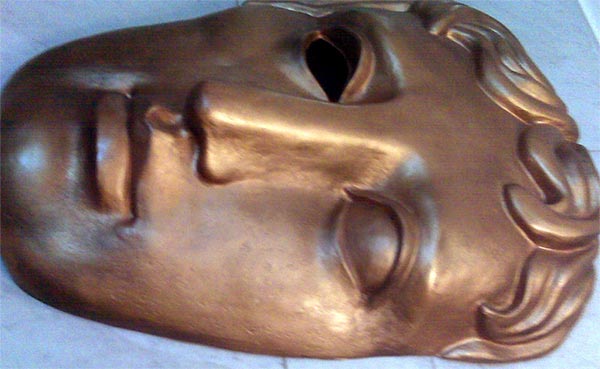 Die BAFTA Film Awards 2017 (BAFTA = Bri­tish Aca­de­my of Film and Tele­vi­si­on Arts) ste­hen vor der Tür und erneut wird der bri­ti­sche Come­di­an Ste­phen Fry die Ver­lei­hung mode­rie­ren, die am 12. Febru­ar in der Roy­al Albert Hall statt­fin­den wird. Die gera­de ver­lie­he­nen Glo­bes waren ja lei­der extrem Gen­re-arm, das könn­te bei den Film-BAF­TAs etwas anders aus­se­hen, zumin­dest ist es in der Nomi­nier­ten­lis­te gut vertreten.
Der SF-Strei­fen ARRIVAL bei­spiels­wei­se ist gleich hau­fen­wei­se nomi­niert, auch FANTASTIC BEASTS wird ein paar Mal genannt.
BEST FILM
ARRIVAL Dan Levi­ne, Shawn Levy, David Lin­de, Aaron Ryder
I, DANIEL BLAKE Rebec­ca O'Brien
LA LA LAND Fred Ber­ger, Jor­dan Horo­witz, Marc Platt
MANCHESTER BY THE SEA Lau­ren Beck, Matt Damon, Chris Moo­re, Kim­ber­ly Steward,?Kevin J. Walsh
MOONLIGHT Dede Gard­ner, Jere­my Klei­ner, Ade­le Romanski
OUTSTANDING BRITISH FILM
AMERICAN HONEY Andrea Arnold, Lars Knud­sen, Pou­ya Shah­ba­zi­an, Jay Van Hoy
DENIAL Mick Jack­son, Gary Fos­ter, Russ Krasnoff, David Hare
FANTASTIC BEASTS AND WHERE TO FIND THEM David Yates, J.K. Row­ling, David Hey­man, Ste­ve Kloves, Lio­nel Wigram
I, DANIEL BLAKE Ken Loach, Rebec­ca O'Brien, Paul Laverty
NOTES ON BLINDNESS Peter Midd­le­ton, James Spin­ney, Mike Brett, Jo-Jo Elli­son, Ste­ve Jamison
UNDER THE SHADOW Babak Anva­ri, Emi­ly Leo, Oli­ver Ros­kill, Lucan Toh
OUTSTANDING DEBUT BY A BRITISH WRITER, DIRECTOR OR PRODUCER
The Girl With All the Gifts: MIKE CAREY (Wri­ter), CAMILLE GATIN (Pro­du­cer)
The Hard Stop: GEORGE AMPONSAH (Writer/Director/Producer), DIONNE WALKER (Writer/Producer)
Notes on Blind­ness: PETER MIDDLETON (Writer/Director/Producer), JAMES SPINNEY (Writer/Director), JO-JO ELLISON (Pro­du­cer)
The Pass: JOHN DONNELLY (Wri­ter), BEN A. WILLIAMS (Direc­tor)
Under the Shadow: BABAK ANVARI (Writer/Director), EMILY LEO, OLIVER ROSKILL, LUCAN TOH (Pro­du­cers)
FILM NOT IN THE ENGLISH LANGUAGE
DHEEPAN Jac­ques Audi­ard, Pas­cal Caucheteux
JULIETA Pedro Almodóvar
MUSTANG Deniz Gam­ze Ergü­ven, Charles Gillibert
SON OF SAUL László Nemes, Gábor Sipos
TONI ERDMANN Maren Ade, Jani­ne Jackowski
DOCUMENTARY
13th Ava DuVernay
THE BEATLES: EIGHT DAYS A WEEK- THE TOURING YEARS Ron Howard
THE EAGLE HUNTRESS Otto Bell, Stacey Reiss
NOTES ON BLINDNESS Peter Midd­le­ton, James Spinney
WEINER Josh Krieg­man, Ely­se Steinberg
ANIMATED FILM
FINDING DORY Andrew Stanton
KUBO AND THE TWO STRINGS Tra­vis Knight
MOANA Ron Cle­ments, John Musker
ZOOTROPOLIS Byron Howard, Rich Moore
DIRECTOR
ARRIVAL Denis Villeneuve
I, DANIEL BLAKE Ken Loach
LA LA LAND Dami­en Chazelle
MANCHESTER BY THE SEA Ken­neth Lonergan
NOCTURNAL ANIMALS Tom Ford
ORIGINAL SCREENPLAY
HELL OR HIGH WATER Tay­lor Sheridan
I, DANIEL BLAKE Paul Laverty
LA LA LAND Dami­en Chazelle
MANCHESTER BY THE SEA Ken­neth Lonergan
MOONLIGHT Bar­ry Jenkins
ADAPTED SCREENPLAY
ARRIVAL Eric Heisserer
HACKSAW RIDGE Robert Schenk­kan, Andrew Knight
HIDDEN FIGURES Theo­do­re Mel­fi, Alli­son Schroeder
LION Luke Davies
NOCTURNAL ANIMALS Tom Ford
LEADING ACTOR
ANDREW GARFIELD Hack­saw Ridge
CASEY AFFLECK Man­ches­ter by the Sea
JAKE GYLLENHAAL Noc­turnal Animals
RYAN GOSLING La La Land
VIGGO MORTENSEN Cap­tain Fantastic
LEADING ACTRESS
AMY ADAMS Arrival
EMILY BLUNT The Girl on the Train
EMMA STONE La La Land
MERYL STREEP Flo­rence Fos­ter Jenkins
NATALIE PORTMAN Jackie
SUPPORTING ACTOR
AARON TAYLOR-JOHNSON Noc­turnal Animals
DEV PATEL Lion
HUGH GRANT Flo­rence Fos­ter Jenkins
JEFF BRIDGES Hell or High Water
MAHERSHALA ALI Moonlight
SUPPORTING ACTRESS
HAYLEY SQUIRES I, Dani­el Blake
MICHELLE WILLIAMS Man­ches­ter by the Sea
NAOMIE HARRIS Moonlight
NICOLE KIDMAN Lion
VIOLA DAVIS Fences
ORIGINAL MUSIC ARRIVAL Jóhann Jóhannsson
JACKIE Mica Levi
LA LA LAND Jus­tin Hurwitz
LION Dus­tin O'Halloran, Hauschka
NOCTURNAL ANIMALS Abel Korzeniowski
CINEMATOGRAPHY ARRIVAL Brad­ford Young
HELL OR HIGH WATER Giles Nuttgens
LA LA LAND Linus Sandgren
LION Greig Fraser
NOCTURNAL ANIMALS Sea­mus McGarvey
EDITING ARRIVAL Joe Walker
HACKSAW RIDGE John Gilbert
LA LA LAND Tom Cross
MANCHESTER BY THE SEA Jen­ni­fer Lame
NOCTURNAL ANIMALS Joan Sobel
PRODUCTION DESIGN
DOCTOR STRANGE John Bush, Charles Wood
FANTASTIC BEASTS AND WHERE TO FIND THEM Stuart Craig, Anna Pinnock
HAIL, CAESAR! Jess Gon­chor, Nan­cy Haigh
LA LA LAND San­dy Rey­nolds-Was­co, David Wasco
NOCTURNAL ANIMALS Shane Valen­ti­no, Meg Everist
COSTUME DESIGN
ALLIED Joan­na Johnston
FANTASTIC BEASTS AND WHERE TO FIND THEM Col­le­en Atwood
FLORENCE FOSTER JENKINS Con­so­la­ta Boyle
JACKIE Made­li­ne Fontaine
LA LA LAND Mary Zophres
MAKE UP & HAIR
DOCTOR STRANGE Jere­my Woodhead
FLORENCE FOSTER JENKINS J. Roy Hel­land, Dani­el Phillips
HACKSAW RIDGE Shane Thomas
NOCTURNAL ANIMALS Donald Mowat, Yolan­da Toussieng
ROGUE ONE: A STAR WARS STORY Nomi­nees tbc
SOUND
ARRIVAL Clau­de La Haye, Ber­nard Garié­py Stro­bl, Syl­va­in Bellemare
DEEPWATER HORIZON Mike Prest­wood Smith, Dror Mohar, Wylie Stateman, David Wyman
FANTASTIC BEASTS AND WHERE TO FIND THEM Niv Adi­ri, Glenn Free­mant­le, Simon Hayes, Andy Nel­son, Ian Tapp
HACKSAW RIDGE Peter Grace, Robert Macken­zie, Kevin O'Connell, Andy Wright
LA LA LAND Mild­red Iatrou Mor­gan, Ai-Ling Lee, Ste­ve A. Mor­row, Andy Nelson
SPECIAL VISUAL EFFECTS
ARRIVAL Lou­is Morin
DOCTOR STRANGE Richard Bluff, Ste­pha­ne Ceret­ti, Paul Cor­bould, Jona­than Fawkner
FANTASTIC BEASTS AND WHERE TO FIND THEM Tim Bur­ke, Pablo Gril­lo, Chris­ti­an Manz, David Watkins
THE JUNGLE BOOK Robert Lega­to, Dan Lem­mon, Andrew R. Jones, Adam Valdez
ROGUE ONE: A STAR WARS STORY Neil Cor­bould, Hal Hickel, Mohen Leo, John Knoll, Nigel Sumner
BRITISH SHORT ANIMATION
THE ALAN DIMENSION Jac Clinch, Jona­than Har­bot­t­le, Mil­lie Marsh
A LOVE STORY Kha­led Gad, Anush­ka Kis­ha­ni Naa­na­y­ak­ka­ra, Ele­na Ruscombe-King
TOUGH Jen­ni­fer Zheng
BRITISH SHORT FILM
CONSUMED Richard John Seymour
HOME Shpat Deda, Afo­la­bi Kuti, Dani­el Mulloy, Scott O'Donnell
MOUTH OF HELL Bart Gavi­gan, Samir Meha­no­vic, Ailie Smith, Micha­el Wilson
THE PARTY Farah Abushwe­sha, Emmet Fle­ming, Andrea Har­kin, Conor MacNeill
STANDBY Char­lot­te Regan, Jack Hannon
THE EE RISING STAR AWARD (voted for by the public)
TOM HOLLAND
RUTH NEGGA
LUCAS HEDGES
LAIA COSTA
ANYA TAYLOR-JOY
Quel­le: Deadline
Bild BAFTA-Mask von EG Focus/César, aus der Wiki­pe­dia, CC BY-SA

Meist harm­lo­ser Nerd mit natür­li­cher Affi­ni­tät zu Pixeln, Bytes, Buch­sta­ben und Zahn­rä­dern. Kon­su­miert zuviel SF und Fan­ta­sy und schreibt seit 1999 online darüber.