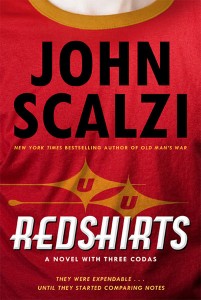 Am Woch­enende wur­den im Rah­men eines Ban­ketts in Seat­tle die Locus-Awards vergeben. Der Preis wird seit 1971 alljährlich vom US-Fach­magazin LOCUS für Veröf­fentlichun­gen im Bere­ich Sci­ence Fic­tion und Fan­ta­sy ver­liehen. In die Wer­tung gehen Werke ein, die jew­eils im Vor­jahr erschienen sind.
Der Preis für den besten SF-Roman ging an John Scalzi für seine SF-Par­o­die REDSHIRTS (der bezieht sich auf die fast schon leg­endären Rothem­den der Sicher­heit­sleute bei STAR TREK, die durch eine geringe Lebenser­wartung auffie­len). Als bester Fan­ta­sy­ro­man kon­nte Charles Stross´ THE APOCALYPSE CODEX einen Locus Award ein­heim­sen. Die Ausze­ich­nung für den besten Erstling erhielt Sal­adin Ahmed für den bei DAW und Gol­lancz erschiene­nen Roman THRONE OF THE CRESCENT MOON.
Nach­fol­gend die kom­plette Gewin­nerliste, gelis­tet sind die jew­eils fünf Best­platzierten, der Gewin­ner wird in fett her­vorge­hoben. Wer nach neuem SF- und Fan­ta­sy-Leses­toff sucht, kön­nte die Liste als Einkauf­szettel ver­wen­den … ;o)
SCIENCE FICTION NOVEL
Red­shirts, John Scalzi (Tor; Gol­lancz)
The Hydro­gen Sonata, Iain M. Banks (Orbit US; Orbit UK)
Cap­tain Vorpatril's Alliance, Lois McMas­ter Bujold (Baen)
Caliban's War, James S.A. Corey (Orbit US; Orbit UK)
2312, Kim Stan­ley Robin­son (Orbit US; Orbit UK)
FANTASY NOVEL
The Apoc­a­lypse Codex, Charles Stross (Ace; Orbit UK)
The Killing Moon, N.K. Jemisin (Orbit US; Orbit UK)
The Drown­ing Girl, Caitlín R. Kier­nan (Roc)
Glam­our in Glass, Mary Robi­nette Kow­al (Tor)
Hide Me Among the Graves, Tim Pow­ers (Mor­row; Corvus)
FIRST NOVEL
Throne of the Cres­cent Moon, Sal­adin Ahmed (DAW; Gol­lancz)
vN, Made­line Ash­by (Angry Robot US; Angry Robot UK)
Seraphi­na, Rachel Hart­man (Ran­dom House; Dou­ble­day UK)
The Games, Ted Kos­mat­ka (Del Rey; Titan)
Alif the Unseen, G. Wil­low Wil­son (Grove; Corvus)
YOUNG ADULT BOOK
Railsea, Chi­na Miéville (Del Rey; Macmil­lan)
The Drowned Cities, Pao­lo Baci­galupi (Lit­tle, Brown; Atom)
Pirate Cin­e­ma, Cory Doc­torow (Tor Teen)
Dodger, Ter­ry Pratch­ett (Harp­er; Dou­ble­day UK)
The Girl Who Fell Beneath Fairy­land and Led the Rev­els There, Cath­erynne M. Valente (Fei­wel and Friends; Much-in-Lit­tle)
NOVELLA
After the Fall, Before the Fall, Dur­ing the Fall, Nan­cy Kress (Tachy­on)
"In the House of Arya­man, a Lone­ly Sig­nal Burns", Eliz­a­beth Bear (Asimov's 1/12)
On a Red Sta­tion, Drift­ing, Aliette de Bodard (Immer­sion)
"The Stars Do Not Lie", Jay Lake (Asimov's 10–11/12)
The Boolean Gate, Wal­ter Jon Williams (Sub­ter­ranean)
NOVELETTE
"The Girl-Thing Who Went Out for Sushi", Pat Cadi­gan (Edge of Infin­i­ty)
"Faster Gun", Eliz­a­beth Bear (Tor.com 8/12)
"Close Encoun­ters", Andy Dun­can (The Pot­tawatomie Giant & Oth­er Sto­ries)
"Fake Plas­tic Trees", Caitlín R. Kier­nan (After)
"The Lady Astro­naut of Mars", Mary Robi­nette Kow­al (Rip-Off!)
SHORT STORY
"Immer­sion", Aliette de Bodard (Clarkesworld 6/12)
"The Deeps of the Sky", Eliz­a­beth Bear (Edge of Infin­i­ty)
"Man­tis Wives", Kij John­son (Clarkesworld 8/12)
"Ele­men­tals", Ursu­la K. Le Guin (Tin House Fall '12)
"Mono No Aware", Ken Liu (The Future Is Japan­ese)
ANTHOLOGY
Edge of Infin­i­ty, Jonathan Stra­han, ed. (Solaris US; Solaris UK)
After, Ellen Dat­low & Ter­ri Win­dling, eds. (Hype­r­i­on)
The Year's Best Sci­ence Fic­tion: Twen­ty-ninth Annu­al Col­lec­tion, Gard­ner Dozois, ed. (St. Martin's Grif­fin; Robin­son as The Mam­moth Book of Best New SF 25)
The Future Is Japan­ese, Nick Mamatas & Masu­mi Wash­ing­ton, eds. (Haika­soru)
The Best Sci­ence Fic­tion and Fan­ta­sy of the Year: Vol­ume Six, Jonathan Stra­han, ed. (Night Shade)
COLLECTION
Shog­goths in Bloom, Eliz­a­beth Bear (Prime)
The Best of Kage Bak­er, Kage Bak­er (Sub­ter­ranean)
At the Mouth of the Riv­er of Bees, Kij John­son (Small Beer)
The Unre­al and the Real: Select­ed Sto­ries Vol­ume One: Where on Earth and Vol­ume Two: Out­er Space, Inner Lands, Ursu­la K. Le Guin (Small Beer)
The Drag­on Gri­aule, Lucius Shep­ard (Sub­ter­ranean)
NON-FICTION
Dis­trust That Par­tic­u­lar Fla­vor, William Gib­son (Put­nam)
An Exile on Plan­et Earth, Bri­an Ald­iss (Bodleian Library)
Sci­ence Fic­tion: The 101 Best Nov­els 1985–2010, Damien Brod­er­ick & Paul Di Fil­ip­po, eds. (Non­Stop)
The Cam­bridge Com­pan­ion to Fan­ta­sy Lit­er­a­ture, Edward James & Farah Mendle­sohn, eds. (Cam­bridge Uni­ver­si­ty Press)
Some Remarks, Neal Stephen­son (Mor­row)
ART BOOK
Spec­trum 19: The Best in Con­tem­po­rary Fan­tas­tic Art, Cathy Fen­ner & Arnie Fen­ner, eds. (Under­wood)
Trolls, Bri­an Froud & Wendy Froud (Abrams)
Tarzan: The Cen­ten­ni­al Cel­e­bra­tion, Scott Tra­cy Grif­fin (Titan)
J.R.R. Tolkien: The Art of The Hob­bit by J.R.R. Tolkien, Wayne G. Ham­mond & Christi­na Scull, eds. (Houghton Mif­flin Har­court)
Steam­punk: An Illus­trat­ed His­to­ry, Bri­an J. Robb (Aurum)
ARTIST
Michael Whe­lan
Dona­to Gian­co­la
Stephan Mar­tiniere
John Pica­cio
Shaun Tan
EDITOR
Ellen Dat­low
John Joseph Adams
Gard­ner Dozois
Jonathan Stra­han
Ann & Jeff Van­der­Meer
MAGAZINE
Asimov's
Clarkesworld
F&SF
Sub­ter­ranean
Tor.com
PUBLISHER
Tor
Angry Robot
Baen
Orbit
Sub­ter­ranean Press
Cov­er REDSHIRTS Copy­right Tor
Meist harm­los­er Nerd mit natür­lich­er Affinität zu Pix­eln, Bytes, Buch­staben und Zah­n­rädern. Kon­sum­iert zuviel SF und Fan­ta­sy und schreibt seit 1999 online darüber.