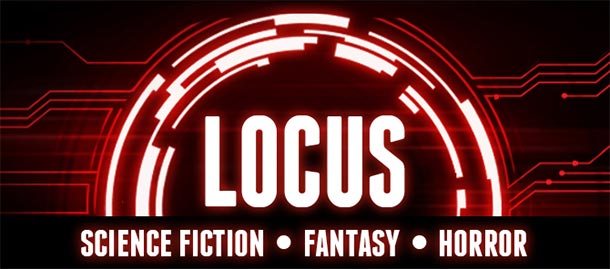 Ges­tern wur­den im Rah­men des »Locus Awards Wee­kends« in Seat­tle die Preis­trä­ger der dies­jäh­ri­gen Locus Awards bekannt gege­ben. Dabei han­delt es sich um einen Publi­kums­preis, die Abstim­mung fin­det online statt.
Mal abge­se­hen von den Gewin­nern, die in der fol­gen­den Lis­te jeweils an ers­ter Stel­le ste­hen, kann man das im Prin­zip als Ein­kaufs­lis­te verwenden.
Man beach­ten den Anteil an Preis­trä­ge­rin­nen. Dar­über könn­ten gewis­se Preis­ver­lei­her hier­zu­lan­de mal einen Moment nach­den­ken, eben­so wie gewis­se Wikipedia-Verwalter.
SCIENCE FICTION NOVEL
FANTASY NOVEL
HORROR NOVEL
YOUNG ADULT NOVEL
FIRST NOVEL
NOVELLA
NOVELETTE
SHORT STORY
ANTHOLOGY
COLLECTION
MAGAZINE
Ana­log
Asimov's
Bene­ath Cea­seless Skies
Clar­kes­world
F

&

SF
Fire­si­de
Lightspeed
Stran­ge Horizons
Uncan­ny
PUBLISHER
Angry Robot
Baen
DAW
Gol­lan­cz
Orbit
Saga
Small Beer
Sub­ter­ra­ne­an
Tach­yon
EDITOR
John Joseph Adams
Neil Clar­ke
Ellen Dat­low
C.C. Fin­lay
Jona­than Strahan
Lyn­ne M. Tho­mas

&

Micha­el Dami­an Thomas
Ann

&

Jeff VanderMeer
Shei­la Williams
Navah Wol­fe
ARTIST
Kinu­ko Y. Craft
Galen Dara
Julie Dil­lon
Leo

&

Dia­ne Dillon
Bob Eggle­ton
Vic­to Ngai
John Picacio
Shaun Tan
Micha­el Whelan
NON-FICTION
Space Odys­sey: Stan­ley Kubrick, Arthur C. Clar­ke, and the Making of a Mas­ter­pie­ce, Micha­el Ben­son (Simon

&

Schuster)
Sen­se of Won­der: Short Fic­tion Reviews (2009–2017), Gard­ner Dozois (ReAni­mus)
Stran­ge Stars, Jason Hel­ler (Mel­vil­le House)
Dreams Must Exp­lain Them­sel­ves: The Selec­ted Non-Fic­tion of Ursu­la K. Le Guin, Ursu­la K. Le Guin (Gol­lan­cz)
Old Futures: Spe­cu­la­ti­ve Fic­tion and Queer Pos­si­bi­li­ty, Alexis Lothi­an (NYU Press)
Tol­ki­en: Maker of Midd­le-earth, Cathe­ri­ne McIl­wai­ne, ed. (Bod­lei­an Library)
Asto­un­ding: John W. Camp­bell, Isaac Asi­mov, Robert A. Hein­lein, L. Ron Hub­bard, and the Gol­den Age of Sci­ence Fic­tion, Alec Neva­la-Lee (Dey Street)
None of This Is Nor­mal: The Fic­tion of Jeff Van­der­Meer, Ben­ja­min J. Robert­son (Uni­ver­si­ty of Min­ne­so­ta Press)
ART BOOK
SPECIAL AWARD 2019: COMMUNITY OUTREACH & DEVELOPMENT
WINNER: Mary Anne Mohanraj
Logo Locus Copy­right Locus SF Foun­da­ti­on dba Locus Publications

Meist harm­lo­ser Nerd mit natür­li­cher Affi­ni­tät zu Pixeln, Bytes, Buch­sta­ben und Zahn­rä­dern. Kon­su­miert zuviel SF und Fan­ta­sy und schreibt seit 1999 online darüber.