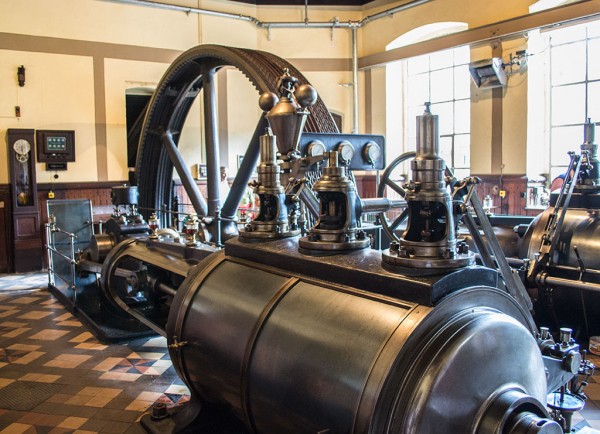 Inspi­ra­ti­on can strike the Steam­punk on many occa­si­ons, but here in Ger­ma­nys Nor­thrhi­ne-West­pha­lia we have an espe­ci­al­ly rich heri­ta­ge of arti­fac­ts from the indus­tri­al revo­lu­ti­on. The area whe­re I live is a city-tri­ang­le that con­sists of Wup­per­tal, Solin­gen and Rem­scheid, all reknown for spe­cial pro­duc­ts like tools (Rem­scheid), kni­fes and bla­des (Solin­gen) and tex­ti­le fabri­ca­ti­on and dyeing (Wup­per­tal). Rem­scheid, by the way, was the birth­place of Wil­helm Rönt­gen, inven­tor of the X‑ray, but that is ano­t­her sto­ry.
If the bold explo­rer of the Coun­try of Berg (ger­man: »Ber­gi­sches Land«, named after the for­mer counts of Berg) seems to have reached a fence with a sign on it that reads »The End Of The World«, igno­res this and just moves on, his trus­ty mache­te in his hand, he may reach Rade­vormwa­ld-Dah­ler­au, a small flock of houses on the shores of the river Wup­per. Here you can find the Wül­fing-Muse­um.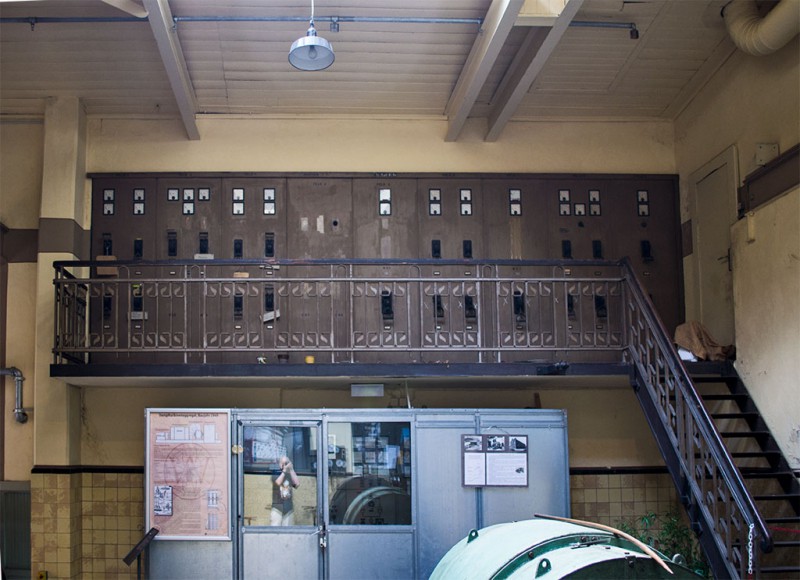 The Muse­um war once a cloth mill. After the firm got ban­crupt in 1996 for­mer workers con­ver­ted it into a muse­um that not only shows older and newer tech­ni­ques of tex­ti­le manu­fac­tu­ring and refi­ne­ment but also houses relics from the indus­tri­al revo­lu­ti­on. The enter­pri­se ran under the name »Johann Wül­fing & Sohn« and was foun­ded 1674 in Rem­scheid-Len­nep. In the ear­ly 19th cen­tu­ry they moved to Dah­ler­au, becau­se they were able to use the river Wup­per as a means of power genera­ti­on as ear­ly looms were water powe­red. But in 1891 they bought a steam engi­ne that not only pro­vi­ded the power for the manu­fac­tu­ring but also was used to sup­ply Dah­ler­au and Rem­scheid-Len­nep with elec­tri­ci­ty. This steam engi­ne ist still the­re and can be visi­ted (see above and below), along with other old exhi­bits.
So, if you hap­pen to be in the area, take the oppor­tu­ni­ty the visit the Wül­fing-Muse­um in the local Hob­bit-lands, as you would miss incredi­ble Steam­punk-inspi­ra­ti­on, as the images above and below may pro­ve.
All pho­tos are by me, they are under a Crea­ti­ve-Com­mons-licen­se: CC BY-NC-SA
[nggal­le­ry id=33]
Meist harm­lo­ser Nerd mit natür­li­cher Affi­ni­tät zu Pixeln, Bytes, Buch­sta­ben und Zahn­rä­dern. Kon­su­miert zuviel SF und Fan­ta­sy und schreibt seit 1999 online dar­über.