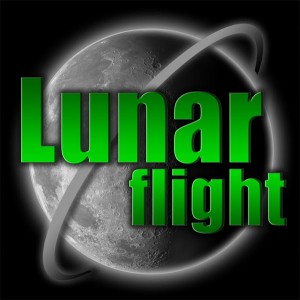 For some days now I am a proud owner of an Ocu­lus Rift deve­lo­per kit. Sin­ce I atten­ded a press demo of
EVE VALKYRIE
at the Games­com this sum­mer, the device just would not let me go. The expe­ri­ence was so inten­si­ve and the fee­ling of the game so inno­va­ti­ve, that I think the OR will be THE most signi­fi­cant revo­lu­ti­on in the gaming sec­tor of recent years. So I regu­la­ri­ly che­cked ebay for a device, very well knowing that I can only get a deve­lo­per ver­si­on at the moment – and that it suf­fers by see­ing a grid pat­tern due to the low reso­lu­ti­on of the dis­play at just 1280 by 800 pixels. But for tests and pro­bab­ly expe­ri­ments with the various deve­lo­per IDEs I did not care. And real­ly: with lots of the avail­ab­le tech­de­mos you just for­get the low reso­lu­ti­on immedia­te­ly, being ent­ran­ced by the unbe­liev­a­ble immersion.
You should not dis­re­gard, howe­ver, the pro­blems with »simu­la­tor sick­ness«. What hap­pens in the game does not fit to what the organ respon­si­ble for sen­se of balan­ce in the midd­le of your ear tells the brain – so even per­sons not sus­cep­ti­ble to sea- or tra­vel sick­ness that have no pro­blems whatsoever with modern 3D-com­pu­ter games can get affec­ted. Belie­ve me, I know what I'm tal­king about. :o) The deve­lo­pers of the device is try­ing to mini­mi­ze the­se simu­la­tor sick­ness effecs by impro­ving the head tra­ckers, but I think this pro­blem will per­sist. Becau­se of the organ in your midd­le ear.
Bes­i­des the tech demos the­re are alrea­dy the first ful­ly play­a­ble games that sup­port the ocu­lus Rift. One of tho­se is LUNAR FLIGHT.
LUNAR FLIGHT basi­cal­ly draws from one of the oldest – and pro­bab­ly »clas­si­cal« game princi­ples: LUNAR LANDER or pro­bab­ly SPACE TAXI. You had to navi­ga­te a small pixel-ship in a 2D side­view by skill­full use of thrus­ters to land on the moon (or some­place else).
In LUNAR FLIGHT you are sea­ted in the cock­pit of a moon lan­der that reminds clear­ly of the ear­ly NASA ori­gi­nals. You steer the flight of the ship by a seri­es of thrus­ters that are posi­tio­ned stra­te­gi­cal­ly around the ves­sel. What will appeals to fans of rea­lism is also the cau­se that this kind of con­trol will not beco­me easi­ly acces­si­ble to the play­er – even if the­re are mecha­nisms in place to help stee­ring the lander.
Some hints for the start: at first just play with ver­ti­cal thrust and just get a fee­ling for what hap­pens. Lift off some times and land again. After that try to lift off and just test the yaw by firing the cor­re­spon­ging thrus­ters, but stay obe the lan­ding pad so you can still do a con­trol­led lan­ding. If you'­ve got a hand­le on that you can try to fly to ano­t­her lan­ding pad (nav­point). You pro­bab­ly will want to deac­ti­va­te the auto align­ment of the ship, espe­cial­ly when lan­ding it can be more of a nui­sance than help.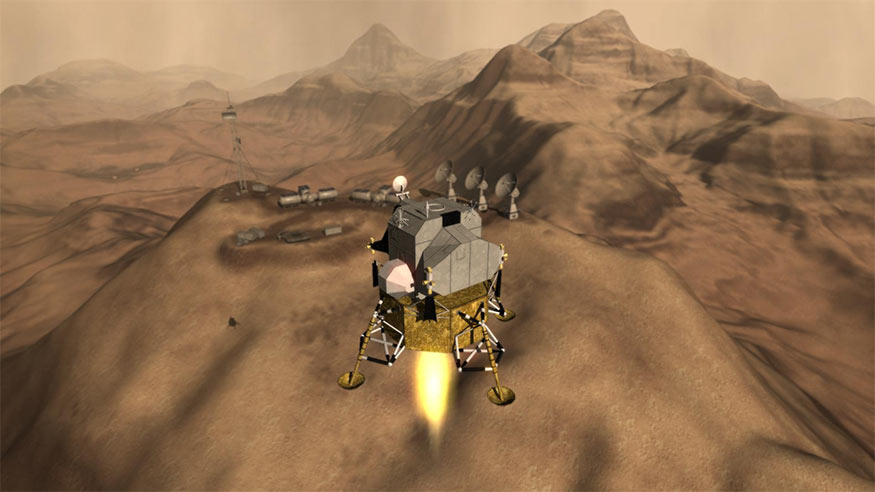 The game´s immer­si­on is ama­zing. That is most­ly becau­se of the ves­sels cock­pit. You are real­ly sit­ting in the con­ning bridge an by just loo­king around with the rift you see mul­ti­ple dis­plays with various infor­ma­ti­ons about the sta­tus of your ship. Addi­tio­nal­ly you are able to acti­va­te but­tons by loo­king at them. Or, to be more pre­cise, you select the but­ton by loo­king and acti­va­te it by pres­sing a but­ton on the game­pad. Amazing.
If you have not seen this yet you can­not ima­gi­ne, how real this feels due to the OR and how much you are IN the game des­pi­te the low reso­lu­ti­on of the devices dis­play. It´s terrific!
The star­ter mis­si­ons are rela­tively simp­le, just start at moon base one, fly over to moon base two and land on the desti­na­ti­on pad. But rest assu­red, as a new­bie astro­naut you will have all your hands full by fami­lia­ri­zing yourself with the con­trols and what thrus­ters to fire. By lear­ning this you will crash one or the other lan­der on the moons sur­face. Trust me, i know what I´m tal­king about, I added some new cra­ters to the moon. ;o) But, the game is in no sen­se unfair, it just does not com­ply with the opi­ni­on of big deve­lo­pers that seem to think, game con­trols have to be ridi­cu­lous­ly easy and you have to get it immedia­te­ly. Expe­ri­men­ting with this kind of xon­trol can be lost of fun.
If you mas­te­red the fly­ing you can advan­ce to more chal­len­ging mis­si­on, whe­re you have to gather mate­ri­als from the sur­face (you can lea­ve the cap­su­le) or that take place even on Mars in the hig­her levels. If you are very adven­tur­ous and have got a sto­mach made of con­cre­te you can try the mul­ti­play­er mode whe­re you can try to shoot oppo­nent play­ers from the lunar sky. Regard­less what mis­si­ons you take, you are able to vary the dif­fi­cul­ty in a wide ran­ge by selec­ting or deselec­ting various opti­ons in the set­ting menu. You pro­bab­ly want to give your ship unli­mi­ted fuel for the first few tries.
LUNAR FLIGHT shows in an impres­si­ve way whe­re we are going when it comes to vir­tu­al rea­li­ty in games. Even if the game its­elf actual­ly is rather simp­le and would not be over­ly spec­ta­cu­lar without the device (I did not test that yet, but other reviews say that it is still very good when play­ed on a moni­tor, espe­cial­ly prai­sed were the aes­the­tics of the lunar sur­face), but with the Rift it gains tre­men­dous in terms of fun and fasci­na­ti­on. If you alrea­dy got your hands onto one of the deve­lo­per ver­si­ons of the Ocu­lus Rift, stop thin­king and just buy the game.
Bril­li­ant!
If you want to help the deve­lo­per do not buy it on Steam, but in the new Hum­ble store. You will get a Steam-key the­re, too, but the deve­lo­per gets more money that way than by buy­ing via Val­ves shop. Plus you are hel­ping charity.
p.s.: I did not cap­tu­re a video showing the game­play in Ocu­lus Rift´s dou­ble-eye-gra­phics, becau­se most of the rea­ders do not own such a device yet.
p.p.s: com­ing up next: KAIRO
Logo and screen­shots copy­right shovsoft

Meist harm­lo­ser Nerd mit natür­li­cher Affi­ni­tät zu Pixeln, Bytes, Buch­sta­ben und Zahn­rä­dern. Kon­su­miert zuviel SF und Fan­ta­sy und schreibt seit 1999 online darüber.